The attainment of a stable goal in human planetary population could be helped through advances in contraceptive technology. The invention of a contraceptive for men is urgently required as there is nothing currently available other than the condom or vasectomy. To many men the very mention the word 'vasectomy' has them crossing their knees as if to say "Not on you Nelly!". It therefore follows, that the introduction of an acceptable, effective male contraceptive would not only mean men would, at long last, help relieve some of the burden on women in family planning but, importantly could help reduce fertility rates in areas of the world where it is most needed.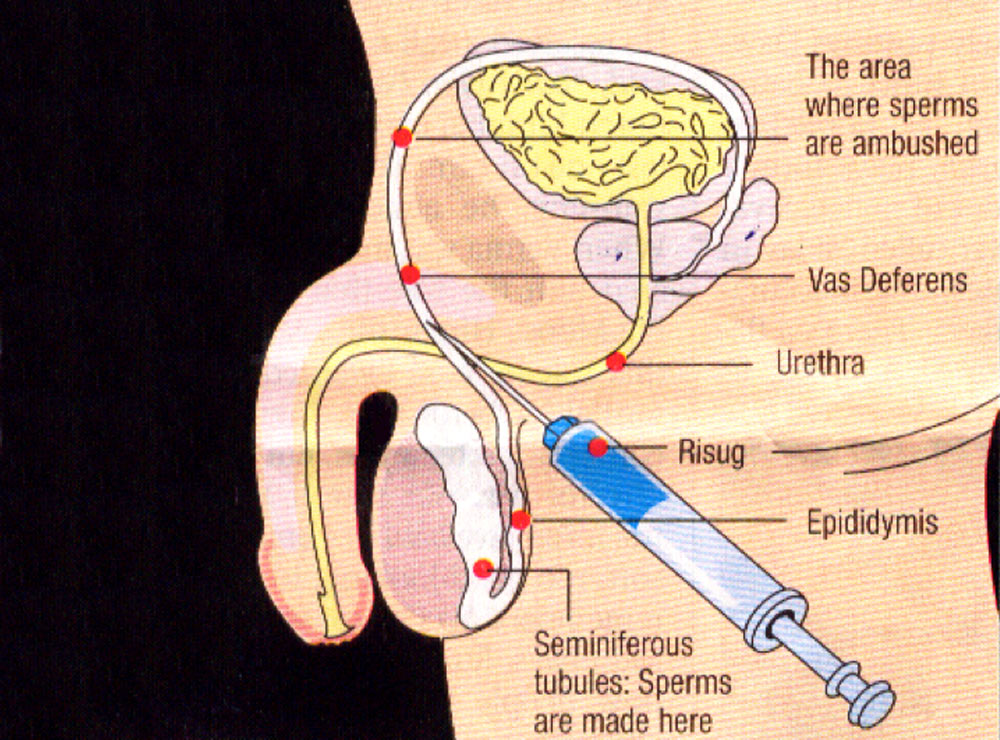 There is, however, one male contraceptive which has now long been in the making. After years of research and trials on 500 people the licensing of this contraceptive is getting closer to realisation. The development of this drug was started 40 years ago by an engineer called Sujoy Guha. The method is called RESUG which stands for the "reversible inhibition of sperm under guidance". Dr Guha is now in his 70's but still plays an active role in its development. He came up with the idea of inserting a plug in the Vas Deferens, the tube which transfers sperm from epididymis to the ejaculatory duct. This plug is a viscous gel, (styrene maleic anhydride (SMA) copolymer chemically reacted with dimethyl sulfoxide (DMSO) and works by inactivating any sperm which come in contact with this chemical obstruction. The RISUG treatment is much less drastic and invasive than a vasectomy and can be completed in minutes through injecting this chemical into the Vas Deferens. Dr Guha believes that this contraceptive, once inserted, should remain effective for 13 years before it needs replacing.
In order to pursue his vision Dr Guha had to go through the lengthy process of re-training in order to qualify as a doctor of medicine. Finally, after years of research his goal has finally nearly been achieved.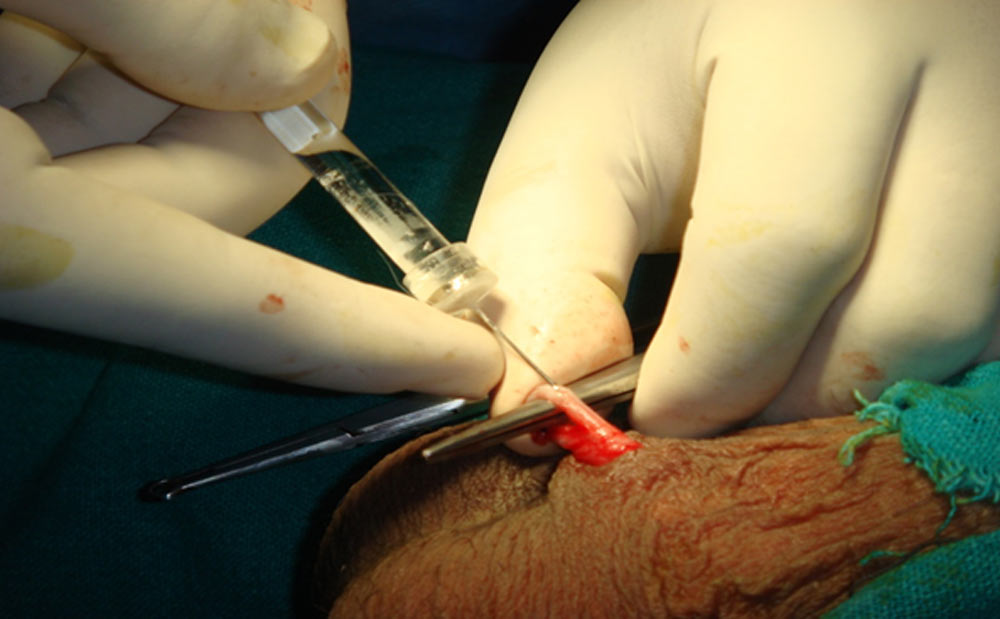 During the most recent trial reported in a paper published in July 2019 in the Indian Medical Research Council, RISUG was applied to 139 married men, under the age of 41 and having at least two children. The men on this trial were given a single shot of the injection and monitored for six months. The wives of 133 of the men did not get pregnant after unprotected sex. The drug's failure to work for six of the men was blamed on "leakage" from the syringe, or the sperm-carrying tubes suffering punctures, according to the results. There was also no reported loss in libido in patients who have received the RISUG contraceptive. It is early days for this procedure, so it stands to reason that the effectiveness of this operation should improve with time.
According to a BBC report dated December 2019, "some researchers like Stephanie Page, professor of medicine at the University of Washington School of Medicine, even this seemingly paltry failure rate is significant. "That may not be any different than scalpel vasectomy in terms of side effects and failure rate. On the whole, Prof Page believes the crucial third trial study was "positive", but believes that the number of volunteers (139) was limited and the follow-up period (six months) was "not long by most standards".
Whilst recently in Delhi I had the good fortune of discussing this intriguingly clever new male contraceptive with one of Dr Guha's co-research colleagues, Dr Radhey Shyam Sharma, Head of the Division of Reproductive Biology, Maternal Health and Child Health, Indian Council of Medical Research.
We discussed this procedure and talked briefly about its future development. The beauty of this RISUG is that it has been shown in animal experiments to be reversible. So far, no trials have taken place in humans. Dr R Sharma informed me that there is currently a request before the Indian medical research council to carry out a trial in 30 patients who have been trialled for RISUG treatment three major trials since the early 90's. Dr Sharma is hopeful that the reversibility will be successful. It does pose the question why, after all this time, the reversibility of RESUG has not been tested already. I am sure that the world looks forward to hearing the results of this reversibility trial with bated breath.
Finally, Prof Guha has now licensed the drug to a Berkeley-based non-profit, Parsemus Foundation, to launch it in the US, and a related contraceptive called Vasalgel which is still in pre-clinical trials. Clinical trials of the drug are under way in six European countries. With a grant from the Bill and Melina Gates Foundation.
The world has been waiting long enough for a male contraceptive. Let's hope that it finally happens, preferably sooner than later.